BIG RIGS EXPO POWER PULLS
The first ever Clearfield County Fair Cook book is now available for purchase at the Fair Office for only $10! If you cannot stop by, you may mail a check in the amount of $12.50 ($10 plus shipping) to PO Box 712, Clearfield, PA 16830.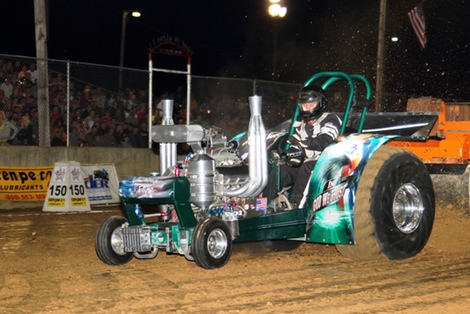 Queen's Lamb Donation Bouquet
Published on August 8, 2013 at 1:18 p.m.
THANK YOU to the following for your generous donation to purchasing the Queen's Lamb at the 4H/FFA Livestock Sale! Proceeds are split between the 4H/FFA Scholarship Fund & Queens for a Cause Program. 'Hayes' will live out his life at the Tubb's Farm.
2012 Queen Misti Bruner & Keri Bruner
Catamount Consulting
Russell Stone Products
McDonald's Landscaping
Dr. Jordan Dentistry
McCrackens Auto Body
Carpet Shack
Hockman's Candy
Mike Kerr
Clair Wriglesworth
Lynn Robbins
AutoMart
Dimeling & Schrot (Jack Woolridge)
Dan Smeal
Blackburn Grain Farm
Tony Huegel (T H Port-A-Johns)
Jeff Taylor
Lansberry Trucking
---
Exhibit Entry Forms Due This Friday July 19
Published on July 16, 2013 at 10:16 a.m.
CLEARFIELD,PA, JULY 16,2012: Have a knack for baking, needlework, gardening, photography, or art? Clearfield County residents are invited to enter their items for show at the Clearfield County Fair. There are many departments in which one can enter including Livestock, Vegetables, Fruits & Nuts, Home & Dairy, Floral, Needlecraft, and Arts, Crafts & Photography. Let's not forget about the PA Preferred Baking, Angel Food, and Blue Ribbon Apple Pie Contest. There is also the Culinary Contest featuring Ethan's Café Amazing Appetizers, Liberty Tax Sticky Buns, Fun Central Kids Cupcake Decorating, King Arthur Flour Baking Contests and the Bee Kind Winery Amateur Wine Competition.
Entry forms will be accepted at the fair office until July 19th. Please refer to the rules in the premium book for the date, time and location that entries are to be placed in their respective buildings. The full premium book outlining all departments, rules, and premiums can be viewed by clicking the "Download Premium Book" button above or stop by the fair office and pick one up.
---
Royal 5K Full Results Posted
Published on June 24, 2013 at 10:06 a.m.
Full results from the Royal 5K held on June 8, 2013 can be found here
Royal 5K Results
Also check out the Fair Fun 5k that will be held on Saturday August 3rd (last day of the fair)!
Fair Fun 5K
Thank you all for participating! See you next year!