WELCOME TO THE CLEARFIELD COUNTY FAIR
The first ever Clearfield County Fair Cook book is now available for purchase at the Fair Office for only $10! If you cannot stop by, you may mail a check in the amount of $12.50 ($10 plus shipping) to PO Box 712, Clearfield, PA 16830.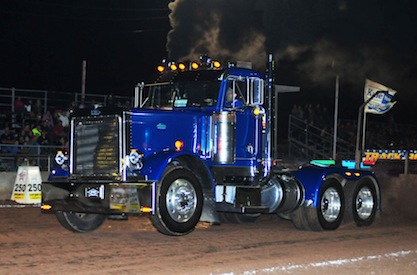 Big Rig Expo -Truck Pulls / Jackyl to perform at Thrills in the Hills
Published on August 6, 2014 at 1:35 p.m.
The Clearfield Fair & Park Board is excited to announce two upcoming fall events to be held at the fairgrounds.
The Big Rig Expo will be held on September 5 and 6th. The Expo will feature a Big Rig Show, Parade, Trucker Games, and Truck Pulls. The Pulls will be held the evening of September 6th. Tickets for the Truck Pulls are $13/adults and $6/kids (ages 5-10). Put Passes will also be available for $20. Admission to the Expo is free.
Thrills in the Hills Bike Rally is coming back to Clearfield October 11th featuring a concert by Jackyl. Concert tickets are $18 and will go on sale tomorrow on this site.
It's been nearly 20 years since Jackyl shot out of Georgia with its wild, untamed and uncouth approach to rock 'n' roll. Equal parts hard rock, heavy metal and Southern rock, Jackyl formed in 1991 and brought back rock 'n' roll back -- back to its down-to-earth, wild, fun-loving origins. Full of spit and swagger -- and a "dirty" sense of humor to boot -- Jackyl quickly earned a deal with Geffen Records. Jackyl's live shows were already legendary before the ink dried on the Geffen contract. Their eponymous album has sold more than a million copies in the United States with released hit singles like "Down on Me" and "When Will it Rain" too. The band is best known for its song "The Lumberjack", which features a chainsaw solo by lead singer Jesse James Dupree. Thrills in the Hills will also feature a Bike Show, Rodeo and Biker Games.
Check back for updated information on both events.
---
Announcement FGL!
Published on July 24, 2014 at 9 a.m.
Florida Georgia Line has just released to the Fair & Park Board a handful of standing room only (track/bleacher) tickets. These tickets will be available for purchase beginning at Noon today at the Ticket Office or by calling the Ticket Office at 814-765-1749. The Ticket Office is open until 7pm. Due to the limited amount of tickets they will not be available to order online.
---
Lezzer Lumber & Q102 Amateur Idol Contest
Published on July 8, 2014 at 4:14 p.m.
Lezzer Lumber & Q102 Amateur Idol Contest!
Preliminary: July 27th at 11:30a.m.
Semi Finals: July 28th, 29th, 30th at 6:00p.m.
Finals: August 1st at 7:00p.m.
1st Place: $500, plus (2) tickets and (2) gate passes to Joan Jett and the Blackhearts Concert on August 2nd.
2nd Place: $300
3rd Place: $100
Prizes Courtesy Of CNB Bank & Clearfield Volunteer Fire Dept. Fair and Park Board