WELCOME TO THE CLEARFIELD COUNTY FAIR
Concert tickets and admission passes will go on-sale on Wednesday March 26 at 10am. CONCERT TICKET/GATE SPECIAL!! ALL CONCERT TICKETS PURCHASED BY APRIL 16TH WILL INCLUDE GATE ADMISSION. A separate gate admission pass will be required if purchased after that time frame.*rides and parking not included.
Download Order Form and Order by Mail
The first ever Clearfield County Fair Cook book is now available for purchase at the Fair Office for only $10! If you cannot stop by, you may mail a check in the amount of $12.50 ($10 plus shipping) to PO Box 712, Clearfield, PA 16830.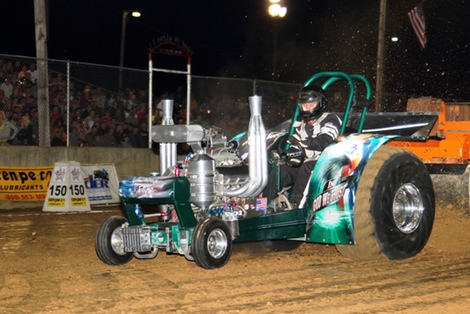 Fair to Close Out Rocking to Joan Jett & the Blackhearts
Published on April 21, 2014 at 1:54 p.m.
(April 21, 2014) At age 14, Joan Jett picked up her first guitar and not long after that she helped turn the rock world upside down for female musicians. On Saturday, August 2nd, Joan Jett and the Blackhearts will turn the Clearfield County Fair upside down with a memorable night of rock and roll.
Joan Jett is an originator, an innovator, and a visionary. As the leader of the hard-rocking Blackhearts, she's had eight platinum and gold albums and nine Top 40 singles, including the classics "Bad Reputation," "I Love Rock 'N' Roll," "I Hate Myself For Loving You," and "Crimson and Clover."
Her music has become a permanent force in mainstream culture. A version of "I Hate Myself for Loving You" has been NBC's Sunday Night Football, performed this past season by Carrie Underwood, and her music is heard in countless films and TV shows including Easy - A, Kick Ass, The Runaways, Shrek, Baby Mama, and many more.
Since co-founding the Runaways, the pioneering all-girl punk quintet, at age 15, Jett's determination and drive have kept her in the public eye. Jett was able to see her story told in The Runaways, the film based on (lead singer of The Runaways) Cherie Currie's book Neon Angel starring Kristen Stewart as Jett, and her fellow A-lister Dakota Fanning as Currie. Jett was close to the project: She served as an executive producer.
Jett and the Blackhearts continuously tour across the globe to throngs of adoring fans. Now with a dozen albums on the table, either solo or as Joan Jett and the Blackhearts, Jett is still kicking butt on stage and looking great in the process. The most recent release, Unvarnished, was released this past September and peaked at 47 on the Billboard Charts.
Tickets will go on-sale April 24th at 10am via www.clearfieldcountyfair.com. Tickets for Joan Jett and the Blackhearts will include free gate admission if purchased on-line by midnight, May 15th or postmarked by May 15th. Ticket prices are $30 for Standing Room Only (also includes general admission bleacher seating) and $24 for Grandstand seating.
For a full schedule of events visit the Fair's official website or Face Book page.
---
Changes to 2014 Clearfield County Fair
Published on April 7, 2014 at 10:59 a.m.
The 2014 Clearfield County Fair will have a few schedule changes from previous years. Harness Racing will be held Sunday through Wednesday, the Queens Contest will be held Sunday at 4pm and the Truck and Tractor Pull will be held Wednesday evening. There will be a $1 gate admission on Sunday for ages 4 and over. A portion of the gate admission will be given to one (or more) charitable organizations in Clearfield County. Organizations are encouraged to send a letter of interest to the Fair Office stating their mission, how they assist the community, and how partnering with the Fair would be beneficial to both organizations. The organization must have a 501C3 designation and be headquartered in Clearfield County. Their 501C3 number must also be provided. Letters of Interest can be sent to Greg Hallstrom, Clearfield Fair & Park Board, PO Box 712, Clearfield PA 16830. Letters must be postmarked by June 27th. Parking will remain free on Sunday.
Concert tickets and advance gate passes are now on-sale via the official fair website, www.clearfieldcountyfair.com. All concert tickets purchased by April 16th will include free gate admission. Concert tickets purchased after that date will require a separate gate pass. Grandstand entertainment this year includes the country band Florida Georgia Line, rock group Halestorm, and classic country band The Oak Ridge Boys with special guest Lee Greenwood. Saturday night's entertainment is yet to be announced.
Entry forms for the Queen Contest are now being accepted. Forms can be printed from the fair website or can be requested by emailing clfdfairqueen@yahoo.com Entry forms are due by June 9th. Contestants must be sixteen years of age and not over twenty years by June 1st, be a female who is a US Citizen and a resident of Pennsylvania, be single, never married, have had no children, be willing to participate in fundraising events for charity, and also be comfortable around livestock. The contest consists of a 300 word or less essay on what the fair means to her community, a speech on why you should attend my fair, and a personal interview. The Queen Program is more than just fair week. It provides young ladies with an opportunity to enhance their speaking, writing, and interview skills, meet public officials and learn about agriculture. The program encourages community involvement by raising funds for charity, speaking engagements at area organizations and appearances at area events. The first contestant meeting will be held on June 10th, 6pm at the Expo II Building at the Fairgrounds. Ladies that are interested but yet undecided are encouraged to attend the first contestant meeting to learn more about the contest and the program. More information and rules can also be found on the fair website.
The Clearfield County Fair will be held July 27-August 2.
---
Ticket Sales Begin Tomorrow
Published on March 25, 2014 at 10:11 a.m.
Ticket sales for the 154th Clearfield County Fair begin tomorrow morning at 10am via this website. All concert tickets purchased by April 16th will include free gate admission. After that, a separate gate pass will need to be purchased. Advance gate passes will also go on sale. For the fairgoer who does not ride, the Advance Gate Only pass for $5 is the best option. For riders, an Advance Gate/Ride pass is available for $7 and for families the Family Value Pass is available for $25. The Family Value Pass consists of (6) gate only -no rides- passes that can be used all in one day or throughout the week.
Grandstand Entertainment this year is:
Tuesday, July 29 - Oak Ridge Boys with special guest Lee Greenwood
Thursday, July 31 - Florida Georgia Line
Friday, August 1 - Halestorm
All shows begin at 8pm. Saturday night is yet to be determined. The Full Pull Truck and Tractor Pull will be held on Wednesday, July 30 at 7pm.
Visa/master card is accepted. Standing Room Only (SRO) includes the track and bleacher seating area. This area is closet to the stage. Fairgoers holding a SRO ticket can move between the track and the bleachers. SRO is considered general admission (no reserved seating). Grandstand seating for all shows is reserved seating. There will be reserved seating on the track for the Oak Ridge Boys/Lee Greenwood concert.