WELCOME TO THE CLEARFIELD COUNTY FAIR
Concert tickets and admission passes will go on-sale on Wednesday March 26 at 10am. CONCERT TICKET/GATE SPECIAL!! ALL CONCERT TICKETS PURCHASED BY APRIL 16TH WILL INCLUDE GATE ADMISSION. A separate gate admission pass will be required if purchased after that time frame.*rides and parking not included.
Download Order Form and Order by Mail
The first ever Clearfield County Fair Cook book is now available for purchase at the Fair Office for only $10! If you cannot stop by, you may mail a check in the amount of $12.50 ($10 plus shipping) to PO Box 712, Clearfield, PA 16830.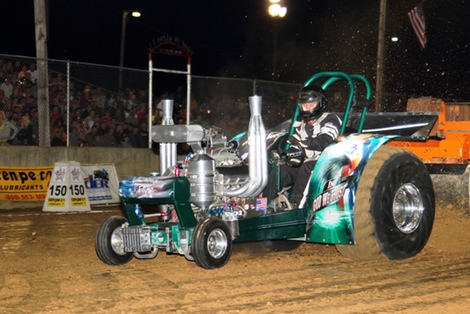 Changes to 2014 Clearfield County Fair
Published on April 7, 2014 at 10:59 a.m.
The 2014 Clearfield County Fair will have a few schedule changes from previous years. Harness Racing will be held Sunday through Wednesday, the Queens Contest will be held Sunday at 4pm and the Truck and Tractor Pull will be held Wednesday evening. There will be a $1 gate admission on Sunday for ages 4 and over. A portion of the gate admission will be given to one (or more) charitable organizations in Clearfield County. Organizations are encouraged to send a letter of interest to the Fair Office stating their mission, how they assist the community, and how partnering with the Fair would be beneficial to both organizations. The organization must have a 501C3 designation and be headquartered in Clearfield County. Their 501C3 number must also be provided. Letters of Interest can be sent to Greg Hallstrom, Clearfield Fair & Park Board, PO Box 712, Clearfield PA 16830. Letters must be postmarked by June 27th. Parking will remain free on Sunday.
Concert tickets and advance gate passes are now on-sale via the official fair website, www.clearfieldcountyfair.com. All concert tickets purchased by April 16th will include free gate admission. Concert tickets purchased after that date will require a separate gate pass. Grandstand entertainment this year includes the country band Florida Georgia Line, rock group Halestorm, and classic country band The Oak Ridge Boys with special guest Lee Greenwood. Saturday night's entertainment is yet to be announced.
Entry forms for the Queen Contest are now being accepted. Forms can be printed from the fair website or can be requested by emailing clfdfairqueen@yahoo.com Entry forms are due by June 9th. Contestants must be sixteen years of age and not over twenty years by June 1st, be a female who is a US Citizen and a resident of Pennsylvania, be single, never married, have had no children, be willing to participate in fundraising events for charity, and also be comfortable around livestock. The contest consists of a 300 word or less essay on what the fair means to her community, a speech on why you should attend my fair, and a personal interview. The Queen Program is more than just fair week. It provides young ladies with an opportunity to enhance their speaking, writing, and interview skills, meet public officials and learn about agriculture. The program encourages community involvement by raising funds for charity, speaking engagements at area organizations and appearances at area events. The first contestant meeting will be held on June 10th, 6pm at the Expo II Building at the Fairgrounds. Ladies that are interested but yet undecided are encouraged to attend the first contestant meeting to learn more about the contest and the program. More information and rules can also be found on the fair website.
The Clearfield County Fair will be held July 27-August 2.
---
Ticket Sales Begin Tomorrow
Published on March 25, 2014 at 10:11 a.m.
Ticket sales for the 154th Clearfield County Fair begin tomorrow morning at 10am via this website. All concert tickets purchased by April 16th will include free gate admission. After that, a separate gate pass will need to be purchased. Advance gate passes will also go on sale. For the fairgoer who does not ride, the Advance Gate Only pass for $5 is the best option. For riders, an Advance Gate/Ride pass is available for $7 and for families the Family Value Pass is available for $25. The Family Value Pass consists of (6) gate only -no rides- passes that can be used all in one day or throughout the week.
Grandstand Entertainment this year is:
Tuesday, July 29 - Oak Ridge Boys with special guest Lee Greenwood
Thursday, July 31 - Florida Georgia Line
Friday, August 1 - Halestorm
All shows begin at 8pm. Saturday night is yet to be determined. The Full Pull Truck and Tractor Pull will be held on Wednesday, July 30 at 7pm.
Visa/master card is accepted. Standing Room Only (SRO) includes the track and bleacher seating area. This area is closet to the stage. Fairgoers holding a SRO ticket can move between the track and the bleachers. SRO is considered general admission (no reserved seating). Grandstand seating for all shows is reserved seating. There will be reserved seating on the track for the Oak Ridge Boys/Lee Greenwood concert.
---
Concert Tickets Going On Sale!
Published on March 18, 2014 at 2:47 p.m.
(March 18, 2014) Concert Tickets and advance gate passes for the 154th Clearfield County Fair will go on-sale Wednesday, March 26th, 10am via the official website www.clearfieldcountyfair.com. Don't miss out on the Concert/Gate Ticket Special! All concert tickets purchased by April 16th will include free gate admission. Tickets purchased after that date will require a separate gate admission pass.
There is no one hotter on the Country scene right now then Florida Georgia Line and you can see them live on Thursday, July 31st. Florida Georgia Line burst into the spotlight with the release of their 2012 multi-platinum selling single, 'Cruise,' which soared to the top of the charts and sold more than six million units. The song was the debut single from their freshman album, 'Here's to the Good Times,' which stayed at No. 1 for an astonishing eight weeks last summer. Singers/songwriters Tyler Hubbard and Brian Kelley will bring their hit songs "Cruise," "Get Your Shine On," and "Stay" to Puyallup. Ticket prices are $50 for Standing Room Only (also includes general admission seating in the bleachers) and $46 for Grandstand seating. A pre-sale date for FGL Fan Club members has been set for March 21st. Fan Club members will receive a url link with instructions.
Classic Country fans will be treated to evening of music from one of the most distinctive and recognizable sounds in the music industry as the Oak Ridge Boys take stage on Tuesday, July 29th. The four-part harmonies and upbeat songs of The Oak Ridge Boys have spawned dozens of Country hits and a Number One Pop smash, earned them Grammy, Dove, CMA, and ACM awards and garnered a host of other industry and fan accolades. Every time they step before an audience, the Oaks bring four decades of charted singles, and 50 years of tradition, to a stage show widely acknowledged as among the most exciting anywhere. Special Guest Lee Greenwood will open the show.
As an award winning writer and musician, Lee has given America one of its most beloved treasures with the song, God Bless The USA. Lee Greenwood is an ICON in country music, with more than 30 albums with seven #1 songs & 25 charted singles hits. Ticket prices are $22 for Track Seating and $18 for Grandstand or Bleacher seating.
Friday evening Halestorm will rock the stage. Halestorm is an American hard rock band from Red Lion, Pennsylvania. After scoring two top 10 singles ("I Get Off" and "It's Not You") from their self-titled debut and touring steadily for two years with acts as diverse as Shinedown, Stone Sour, Disturbed, Megadeth, Papa Roach, Godsmack and countless others, Pennsylvania quartet Halestorm are back with their second full-length, The Strange Case of…. The song "Love Bites (So Do I)" from that album won their first Grammy Award for Best Hard Rock/Metal Performance on February 10, 2013. Ticket prices are $30 for Standing Room Only (also includes general admission bleacher seating) and $24 for Grandstand seating.
Full Pull Productions will bring in the Big Rigs, Super Stock Tractors, Diesel Trucks and Gasoline Trucks on their new night, Wednesday July 30th to see who reigns supreme as the biggest, baddest puller of their class. Five total pulling classes are scheduled for this event – two classes will be 'open to the world' (no membership required) and will offer 2014 points in the USA-EAST Point Race. Classes are 8000 lb. PRO STOCK DIESEL 4x4 TRUCKS, 9500 lb. SUPER STOCK TRACTORS - THE "SMOKER SERIES", 22000 lb. OPEN STREET LICENSED SEMI TRUCKS, 8000 lb. WORK STOCK DIESEL 4x4 TRUCKS, and 6200 lb. OPEN STREET LICENSED GASOLINE 4x4 TRUCKS. See www.fullpullproductions.com for a full listing of rules.
As in previous years, the Fair will offer an Advance Gate Admission Only (no rides) Pass for $5, an Advance Ride Pass for $7, and the Family Value Pass for $25 until Sunday July 27th or while supplies last. A printable order form will be available for download on the Fair website. Phone orders are scheduled to begin in June. Saturday evening entertainment has not been secured yet. Check the Fair's official website or Facebook page for information on all events, admission, and more!